Children's stories from Tu Bong
In the lastest part of our series on the Charity work being done in the village of Tu Bong, Khanh Hoa, Eileen Brown is back with her latest story on the children they are taking care of here.
I have written a little story about each of the babies in the orphanage. There are nine babies at the moment. This is their stories about how they came to be here as well as their birth dates and weights. All the babies have the family name of the Master of the temple. He is considered their godfather. Giac Hanh visits them at least once a day and spends time talking, nursing and playing with them.
Phuc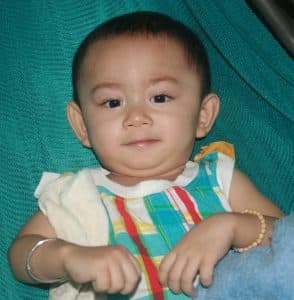 Phuc (named for happiness) is the oldest baby in the orphanage. The government has put his birth date as the 19-12-2014 and it was felt he was under a week old when he was left in front of the traditional medicine hospital half way between the orphanage and the Pagoda. Giac Hanh found him at 0600. He was wrapped in a towel and in a noodle box. He weighted just 2.5kg and he wasn't crying.
At six months of age it was realized he wasn't reaching his mile stones. He couldn't lift his head and he wasn't focusing on anything. He is very easy to get chest problems. He was taken to the number one Children's Hospital in Saigon where they felt he had water on the brain but they couldn't do anything for him. Because of his chest, he was placed on special formula. Phuc is unable to crawl, lift his head or reach for objects. He is a very happy young boy that all the carers love cuddling and spending time with.
We are trying to give him some physiotherapy so he can maintain good arm and leg movements. The extra stimulation will help him for the future. Unfortunately, he doesn't always like this, but we are slowly increasing the time he spends exercising each week.
Hieu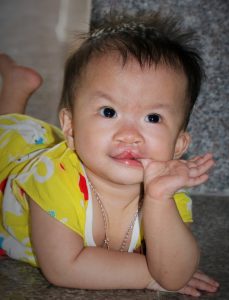 Hieu (named for remembering and taking care of parents)is the only female baby at the moment. She was 3 kg and we think under a week old when she was left at the bottom of the mango tree near the gate to the Pagoda. She was left in a towel and unfortunately she had ants on her face that had bitten her when she was found around 0700. The government has put her birth date at 20-09-2015. It had been raining but fortunately she was protected by the mango tree so wasn't wet.
Hieu was born with a cleft palate. She had her first operation in Saigon at the children's Hospital when she weighted 7kg and needs two more operations to close the cleft palate completely. The next two stages for her upper palate can take place when she is 12kg's and if strong enough after that second operation she can have the third operation three days later otherwise needs to wait a month. She's now 7.5kgs. She still has to drink from a special bottle which through research on the Internet they got from Saigon. She loves her food now and is eating much better after that first operation. Despite this she is a very happy and smiling young baby. She loves playing with the other children and is not long till she walks I think. She learns really quickly. She is clapping and waving to people. When the other babies are crying she crawls over to them and pats them on the back like she has seen everyone else doing.
Hau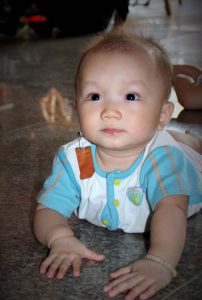 Hau (named for being a kind person) was just 2.6kgs when he was left, at the bottom of the statue of the Buddha, at the gate to the Temple in only a towel. They place him at under a week when he was left. The government has recorded his birth date as the 25-10-2015. He was crying loudly because he was hungry when Giac Hanh found him at 6am.
Hau is a strong happy young baby with and is easily the largest of the babies. He waves his arms around smiling and laughing. He is crawling and is otherwise very healthy. Like Hieu, I don't think it will be too long before he is walking. He certainly has the leg strength just needs the coordination.
Hien
Hien (named for being a kind person) was 2.3kgs when he was left at the local hospital. The hospital contacted the Master and he was bought to the orphanage at under a week of age. His birth date is recorded by the government as 18-12-2015. Hien is a healthy young boy who was the first to get up on all fours and crawling properly. Hau and Hieu were dragging themselves along with their arms and the help of a leg. He started a revolution though and they have all discovered that it's a bit faster on their knees. They don't go very far though with it at the moment. Thank god for small mercies. Hien has great big brown eyes with long lashes. He uses them very effectively. I think when he grows up he will be a hit with the ladies.
Trung and Nghia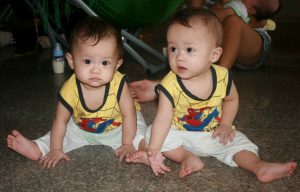 Trung and Nghia are twin boys who were left in a box in from of the Buddha statue at the entrance to the Pagoda. They were the only babies who were left with a note asking the Master (Giac Hanh) to take care of them as their life was too difficult in their home. They were left with a bag of clothing. They weighted 2.9 and 2.5kg. Trung means lawyer and Nghia means help people. Whilst they are twins you can tell them apart once you get to know them. They have different personalities, however, they certainly are connected. They keep an eye on each other all the time. They are solemn young babies but they do get a giggle up when you play with them that seem quite happy to observe everyone.
Duc
Duc was left in the grounds of the orphanage next to the garden. He was left with a plastic bag with a few clothes, nappies and a towel. One of the older ladies who helps at the orphanage found him early in the morning when she heard him crying. Duc has a problem with his chest and when he is six months old he can go to Saigon where he may need an operation. Duc was 2 kg when he was found and his date of birth is recorded
Trung and Tai
Trung and Tai were left at the same time in a box but they are not twins. Trung is older than Tai according to the doctors so maybe their mothers were friends. They were placed in the box opposite each other. Trung was 3.2kgs and his date of birth is recorded as     . Tai is the younger and he was 3kg and his date of birth was recorded as      . They seem healthy young boys.
The youngest babies were all left within two weeks of each other. They are about a month apart from youngest to oldest and they are gaining weight and growing rapidly. Now it's difficult to tell who is the youngest and who is the oldest.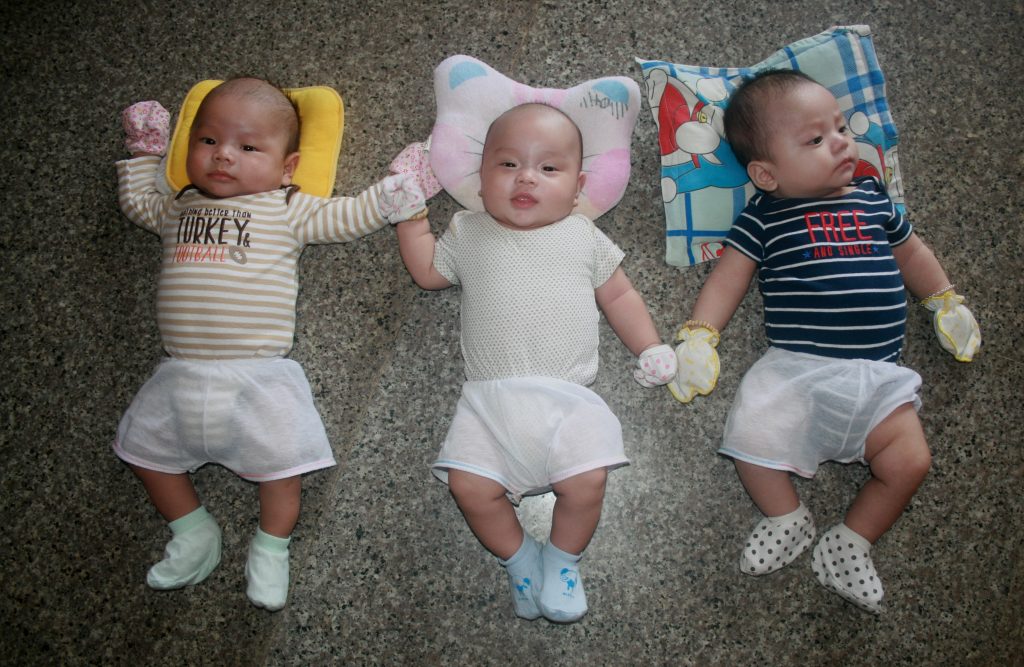 If you would like to help support the orphans at Tu Bong, Eileen's Go Fund Me page can be found HERE