Creating Timeless Artwork from Simple Husks
Sir Nguyen Van Tieu is a master craftsman, an expert in working with one of Vietnam's most famous and popular fruits, the humble coconut. For over fifty years, he has been creating original works from thousands of dried husks, earning an international reputation in the process.
One of the great pleasures of living in Vietnam is having the opportunity to learn about and appreciate the diverse and historic nature of the arts and craft sector in the local community. Many of these crafts are steeped in history, going back generations, and are a living connection to ancient times, now long forgotten. While it is true to say most people involved in the arts and craft field are women, there is still a significant number of men who are passionate about their given fields and continue to practice old techniques in a modern world. One such man is the remarkable 87-year-old, Sir Nguyễn Văn Tieu known locally as "The Guardian of the Coconut's Spirit".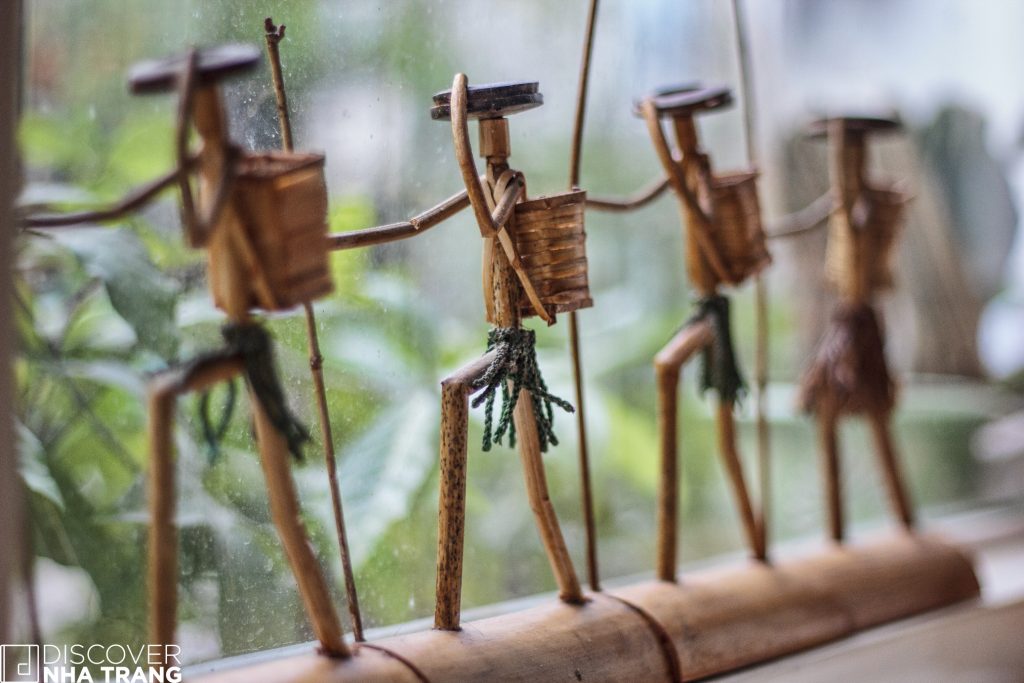 Thanks to man's ingenuity, we live in an age of mass-produced goods, where millions of a single item can be made in just hours, each one identical to the other, and typically these are created from non-renewable resources such as plastic.  They are often used just once and discarded, becoming another piece of unwanted garbage. This is exactly the opposite of what Tieu practices. Every piece he creates is unique and original, and the materials completely sustainable. It is difficult to imagine Vietnam running out of coconuts anytime soon!
He has a 3-story house full of his creations. There are housewares, such as spoons, forks, plates and chopsticks, each lovingly and skillfully handcrafted. Such is his skill and reputation; he was engaged by the 5-star resort, Evason Ana Mandara Spa and Resort upon opening nearly 20 years ago to supply these goods for them, knowing their quality and charm were a perfect fit for the property. He also produces lamps, ashtrays, vases, clocks and even models of marine creatures such as penguins, lobsters, crabs and turtles. He is constantly thinking of new and novel designs, and counts on the unwavering support of his wife who has become very accustomed to him suddenly jumping out of bed to put a new idea on paper when it comes to him in the middle of the night!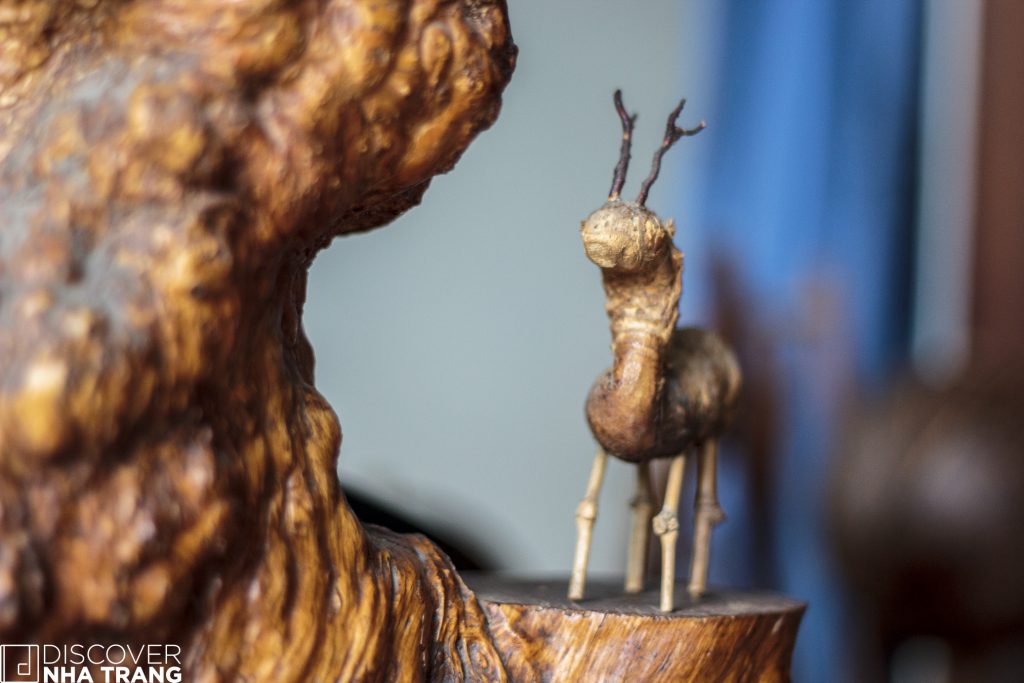 One of his greatest challenges is to find suitable coconuts for his needs as not just any one will do. Firstly, they have to come from trees that are between 30 and 50 years old as there is a certain level of hardness and oil content required to satisfy his exacting demands. Then there are shape requirements: the best carving husks should have an unusual form and shape that fits with the particular design he has in mind. Using his endless imagination, he takes the husk and patiently scrapes, carves and fashions it into a custom piece of art. As a result, he spends much of his time traveling the local area looking for coconuts which are suitable, and then negotiating with the owners of the trees – a hard but rewarding job for a man of nearly 90 years, but a genuine labor of love!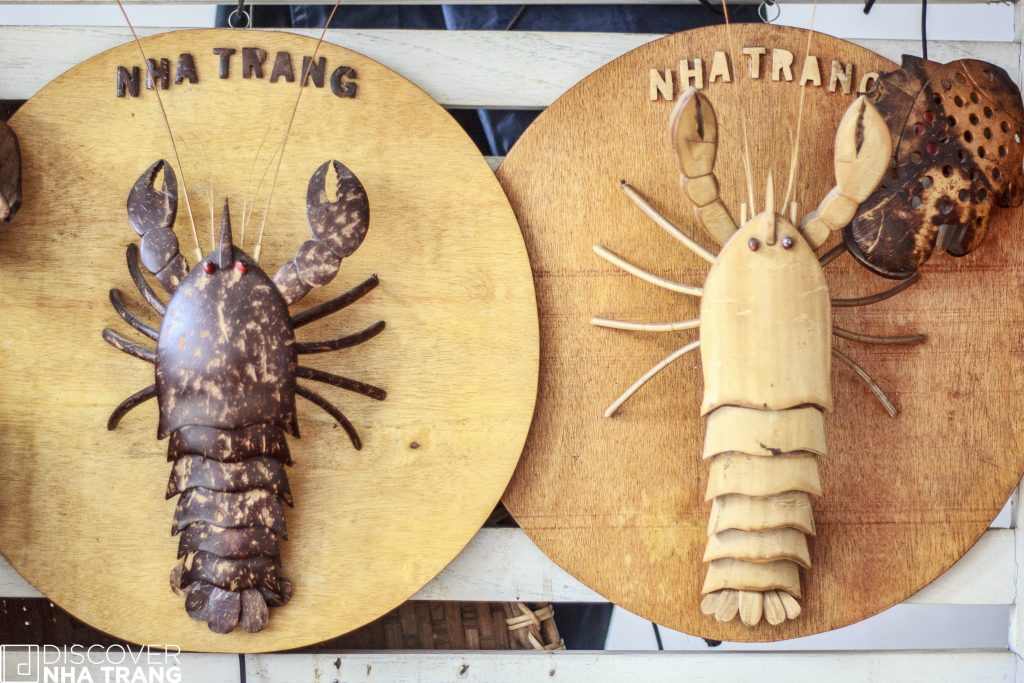 In a way he is fortunate, because the odd shaped nuts are usually rejected at the market. Often left to rot on the tree, the coconut farmers are only too happy to sell them, and will greet him with a knowing smile as the man who takes the cast offs and turns them into something beautiful and timeless.He confided in Discover Nha Trang, discussing his unusually shaped raw materials while showing us one of his delightfully crafted penguins: "I challenge anyone to go to the markets or coconut shops to find a dried husk of this shape and size. As I get older in years, it's not as easy to travel around so much, so I often send my neighbor's children on treasure hunts, asking them to go out and find the best-shaped coconuts for me," he explained.


Tieu's works are very popular across Vietnam, and he has won significant awards at national craft shows and exhibitions. Despite being a celebrity in his chosen field, he has never sought fame: his motivation lies in the creations themselves and the joy he feels when a new piece of art is finally ready for the showroom.
However, he does have concerns for the survival of coconut crafting in the future, and worries about who will take over once he is gone. He is part of a dying breed of artists, and it is his wish that more people (he hopes orphans in particular), can learn this trade and enjoy a career such as the one he has had over the past 5 decades. With a growing tourism economy in Nha Trang, there is certainly demand in this niche, and a promising future for those with the will and skill to succeed! If, during your souvenir shopping, you come across an expertly shaped and intricate coconut artwork, it is likely made at the hands of Sir Nguyễn Văn Tieu.