Visit the Mangrove Forest at Stork Lake Nha Trang
Located about 6km West of Nha Trang Center, the hidden Mangrove forest of Sir Nguyen Van Hung (1955) is an unknown but amazing site to visit for the day with friends or family. It is home to pristine mangroves, the rare blue stork and offers amazing forest views that you won't find anywhere else in the province. 


According to Sir Nguyen Van Hung, Mangrove forests used to thrive in Khanh Hoa Province before 1975, However, after this period, due to the  boom in demand for shrimp, most of Mangrove forests were turned into shrimp farms. Understanding the multitude of  benefits provided by Mangroves, and seeing what the damage  had been done by the proliferation of shrimp farming to the local eco-system, Sir Nguyen Van Hung was determined to cultivate his family Mangrove forest to preserve the environment. Remembering his late father's recommendations; he has protected the Mangroves, let them grow in their natural habitat and allowed them to flourish. It has taken him to a long time to see the forest grow up sustainably:
"After one year, a matured Mangrove fruit can only provide six leaves if it stays healthy. However, there are so many different cases that can prevent Mangrove fruits from regenerating. For example, if the fruit doesn't make it to the bottom of the lake and the roots secure to the soil, they are quickly eaten by  Ba Khia (a small type of crab which is unique to the region, and often lives in the roots of mangrove trees). For this reason , I usually observe the best quality Mangrove fruits and when they fall down, I often dive under the water and  pin them carefully to the lake bottom."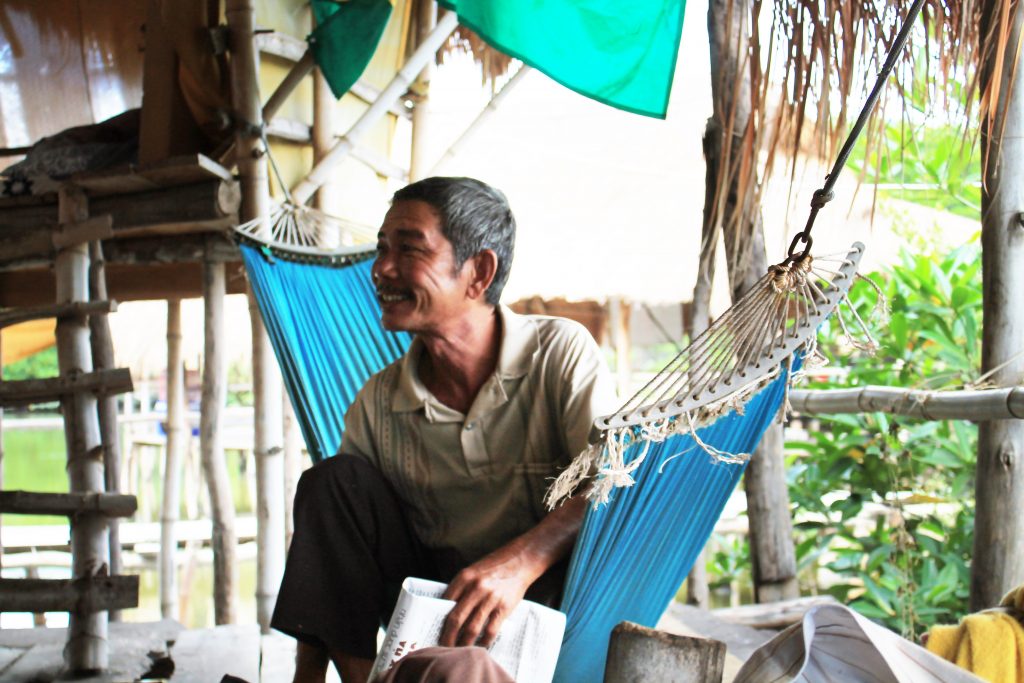 In 2010, when the secret of his hidden forest was released,  Sir Nguyen Van Hung decided to open the Mangrove forest to visitors and created a small eco resort with naturally made huts for visitors to relax in and take in the beauty of the lake. 
Pointing at the birds which were walking leisurely around his hut, he said. 
"Do you see any flies or mosquitoes in my huts? There will be not any of them for sure because my bird friends are the best ultimate pest controllers. They have stayed in harmony with our family from generation to generation, happily gobbling up annoying insects, and together with us, they help to preserve the ecosystem and keep it balanced. 
This rare, blue stork, knows the mangrove forest provide a safe haven, and has chosen to use it as a nesting site for many generations. According to Sir Nguyen Van Hung, there are more than fifteen kinds of birds living in his forest. Most of them fly out collecting food in the early morning and come back after 5pm. It is the most beautiful time there when the birds land on the roofs of all of the huts and sing their lovely songs together as the sun sets over the lake.



Besides the magnificent gift of nature, what visitors can experience when visiting this unique "resort" is spending time in the 15 thatched roof huts that were set up in the forest by Mr. Hung himself. Here you can eat to your heart's desire and enjoy family specialties like Tamarind Crab, Barracuda fish cakes or Grilled Greasy back shrimp.  If you want to bring your own food, or collect fish from the lake to cook yourself, it costs only VND 10.000 to rent a fishing rod and the fees to rent a hut are only 150,000 – 250,000 per day. All of your catch will be free of charge.
This unique experience is perfect for expats or locals looking to get off the beaten track and see somewhere new in NhaTrang for a leisurely day or scenery, wildlife, food and fishing.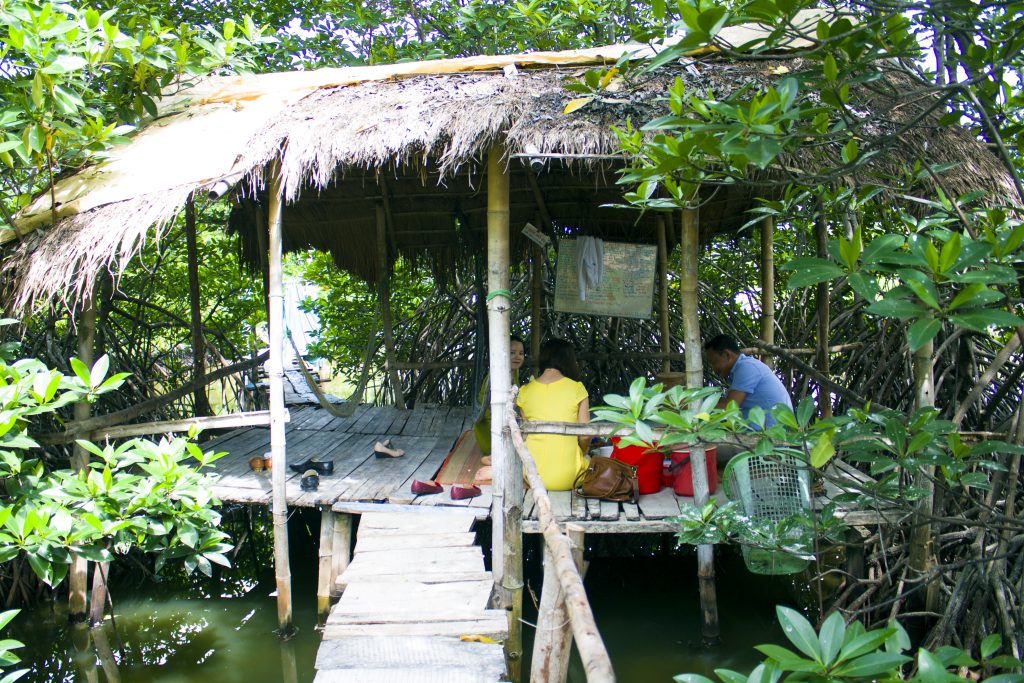 Notes:
How to get there: Go along Le Hong Phong Street then turn right at the first big roundabout to Phong Chau Street. After about 800 meters, turn left where you will see a sign for the the Mangrove Ecosystem Tourist Site (Khu Du Lich Rung Duoc). The wonderland is just located at the end of the road with another sign signalling the entrance (The forest is here! – Rung Day Roi!).