For many years, Nha Trang has been a popular holiday destination for both Vietnamese and international travelers, with its 7km of white-sandy beach overlooking the bay. This makes it perfect for swimming in its quiet, calm waters. However, there is more than just swimming available and we'd like to inform you of an often unreported activity available in the region – Surfing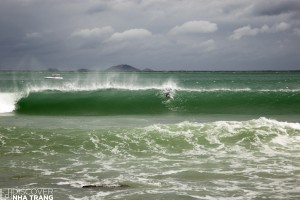 It is a sport that often goes under the radar in Vietnam,  yet there are some very good surf spots in the central areas of coastal Vietnam. When typhoons from Philippines bring storms along the Nha Trang coast from October to April, they cause nice swells in the water that make surfing ideal for all levels of surf enthusiast. What's more, you and your mates will often the water to yourselves!
After intrepid research  in finding the best spots around, here are the four best places we have found to take your board and catch some waves:
Bai Dai (Long Beach) The most famous surf spot in Khanh Hoa Province, it is located 23km from the city-center, close to Camh Ranh Airport. It's classic beach-break sport with 5km of white sandy shore and is perfect for the beginner surfer. Board rental is available here. Strong rip-currents are possible so be careful.
The City Reef – Located at the north of the city at Hon Chong this is a reef-break surf spot that is great for both beginners and more advance surfers. Really nice lefts are found here but no rentals – so bring your own board.
The Dark Reef – our favorite spot in Nha Trang, it is found on the way to Long Beach near Diamond Bay Resort. This is a classic reef break with really nice rights and lefts. You need to paddle quite far to line up about 300 meters from the shore to catch the best waves and a boat transfer is available. This place is suitable for more advanced surfers. No rentals available and not safe during low-tide!
Narnia – 100km from the city in the National Park area, this is wild and wonderful. There are numerous spots here: a beach break area for beginners and some easy reef breaks. The main spot here offers awesome pipelines with a similar shape to the mighty Teahupoo. Only suitable for advanced and professional surfers as it often has swells of over 3 meters. Rentals not available
In our next post we're going to take a journey to discover areas north of Khanh Hoa – so stay tuned! 
Feel free to contact us if you would like to join on one of our surfing expeditions, or if you need any information about surfing in general or getting surfing equipment.