Breakfast Buffet at InterContinental Nha Trang
Read our article on The Best Breakfasts in Nha Trang (Part 1)
Read our article on The Best Breakfasts in Nha Trang (Part 2)
Read our article on The Best Breakfasts in Nha Trang (Part 3)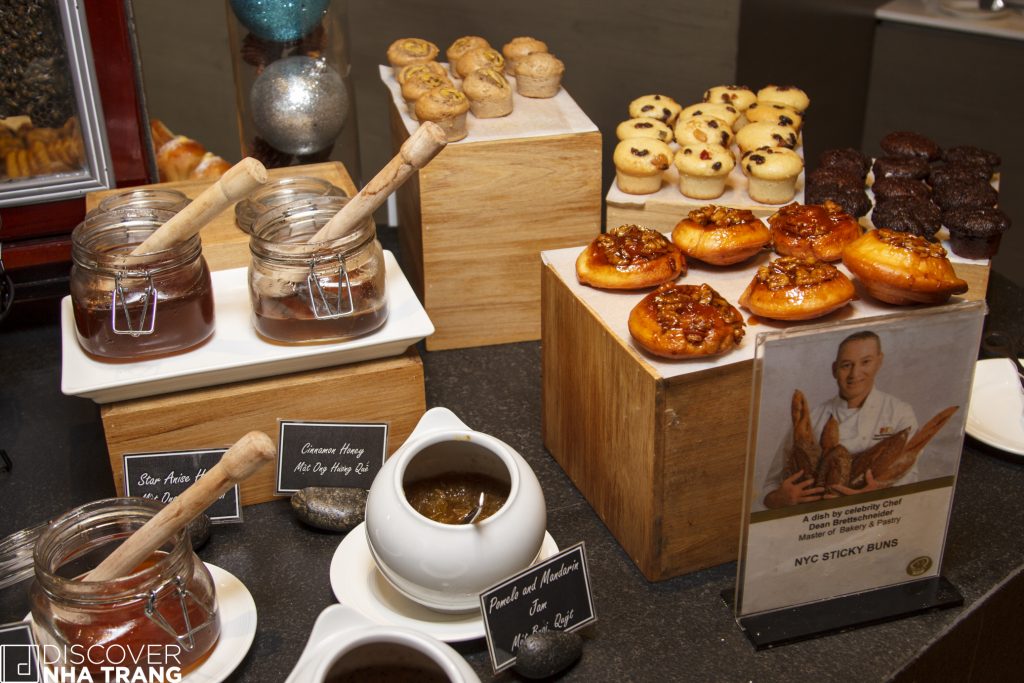 ---
In our endless search for the best start to the day, our Best Breakfast series takes us to the luxurious fine dining breakfast buffet at InterContinental Nha Trang. We can all do with splashing out from time to time, and if you are seeking a filling breakfast with a refined and delicious array of options, then this is the place to visit!
The restaurant at InterContinental is very spacious and relaxed, perfect when you've just woken up. A full team of attentive staff greets you at the entrance and seat you quickly at your table while taking drinks orders for European coffee and freshly squeezed fruit juices. Upon sipping the first taste and taking in the scale of the feast that awaits, the hardest part is choosing where to begin the upcoming feast!


An assortment of large cooking stations and buffet tables are laid out across the restaurant, so we started at the salad bar. A large choice of fresh fruit and vegetables is available along with a vast array of cold meats, smoked salmon, nuts, imported cheese and sauces aplenty. In fact, one could enjoy a full breakfast in this small area alone but knowing there was much more available, we decided to fill our plates relatively sparingly to save some room for later. The smoked salmon was wolfed down with some delicious homemade brown bread, while my colleague ordered some Eggs Benedict with swiss bacon and Hollandaise sauce from cooking station.
Next up, we moved to the hot food bar which was stocked with various hot dishes of rice, dumplings, soups, Vietnamese crispy pancakes, succulent sausages and bacon, and my personal favorite – roast potatoes.  Catering to international tastes, there's a great choice in both Asian and international dishes here, so you can mix and match to your preference to get the needed mix of carbs, fruits, vegetables and fat.


Those who prefer a lighter breakfast would be well served to head straight to the pantry section. All of the bread, pastries and preserves are made in-house by the expert Boulangers, and there are not many aromas better in the morning time than percolating coffee combined with wafting bread. The croissants are perfectly cooked, light and soft with a buttery center, and the homemade jam is fantastic. Added to this is a resident beekeeper who dedicates his time to provide guests with gooey, sweet honey directly from the hives. It's small touches like this that really add to the breakfast experience.


Throughout the dining, staff arrive at regular intervals to fill your coffee cup and suggest some homemade smoothies and fruit juice concoctions that are thought up each morning. The Virgin Mary I ordered was perfection in a glass, using fresh tomato juice and a hint of spices, and topped off the meal in perfect fashion. Priced at VND 485,000 ++, this certainly isn't breakfast on a tight budget, but for the wealth of fantastic food on offer combined with a relaxed, modern location and highly attentive staff  – the Breakfast Buffet at InterContinental Nha Trang is excellent value for money.



Perfect for a couple's Sunday breakfast, an early morning business meeting, or as a monthly treat, it excels in all areas and gets the Discover Nha Trang seal of approval!
Intercontinental Nha Trang  Breakfast Buffet
Cookbook Cafe – 1st Floor (6.30am – 10.30am)
32-34 Tran Phu Street