Zallo is situated in the heart of the tourist area, just a two minute walk from the main beach. Sprawling over 2 open terraced floors, the spacious building has seating for up to 300 hungry mouths with more tables available on the sidewalk outside. Bustling every evening from sunset to closing, it draws a healthy mix of locals and tourists, all eager to sample the colorful and impressive selection of over 50 buffet dishes prepared in Vietnamese, Japanese and international style. If you have arrived in the city and wish to sample some of the specialties unique to the region, then you can try many of them in just one evening at Zallo.
The eyes are immediately drawn to the aquariums outside which showcase a wide array of live seafood including fresh mussels, oysters, fish, clams and crabs of all shapes and sizes. Upon being seated, the staff will arrive with a table-top barbecue of glowing charcoal under a circular grill. It sits in the center of the table and becomes your cooker for the evening. This 'Vietnamese style', barbecue is a mainstay in any Vietnamese household and is communal dining at its finest. Take turns to cook each item to your preference, or ask the staff to come and do it for you, to ensure the various seafood items that you may be unfamiliar with are cooked to perfection.
While it would be impossible to sample everything on display, the sheer variety provides an optical encyclopedia of the smorgasbord of foods that Vietnamese people enjoy on a regular basis. This is a proverbial feast, not just for the taste buds, but for all the senses. The trays of seemingly endless fish, crustaceans, molluscs, meats and sides provide the visual stimulation, and this combines with the heady aromas of hundreds of dishes being cooked simultaneously under the blaze of the smoky charcoal. Once the eating begins, taste and touch move to the fore, and the textural contrasts of slippery, crunchy, soft, and chewy allow one to savor the primal satisfaction of eating to your heart's content. Here, it certainly worth taking your time and settling down for what promises to be an evening of true indulgence.The serving tables display the diversity of seafood that can be found in the waters of Khanh Hoa Province, and the chef stationed at the main counter is ever ready to replenish the items as they fly off the ice.
With trips to numerous ports needed each morning to pick up the day's supplies, great care goes into choosing the best quality ingredients, all thoroughly tested by the Khanh Hoa Department of Seafood. Local sea bass (Baramundi), grouper, catfish, mackerel and tuna nestle beside large, juicy shrimp, mussels, oysters and other lesser known but equally tasty delights such as eel and mudskipper. The tuna steaks are firm, fresh and of a good thickness to cook on the barbecue, or you can request to have them sliced into delicious Sashimi for a more Japanese experience. Do try the large, juicy fresh local oysters, perfect with a dash of lime juice. Locals prefer to cook them over the barbecue coals, but whatever your preference, this is a great opportunity to diversify your tastes and delve into some delectable molluscs and shellfish.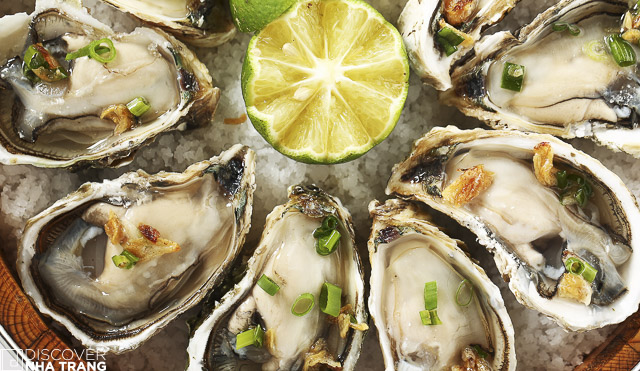 One of Zallo's more interesting offerings is the spit-roasted crocodile rotisseried right outside the main entrance. While it attracts the attention of passing tourists eager to snap a photo of this exotic meat, it is far more enjoyable to try it for yourself. The Siamese Freshwater Crocodile is sourced sustainably from local crocodile farms who help to conserve the species by repopulating critically depleted wild stocks. The meat is tender, highly nutritious, low in fat and cholesterol and very high in protein. When barbecued, it has a soft and tender interior similar to chicken, while the skin is akin to crunchy pork crackling. Add some salt, and perhaps a dash of sweet chilli sauce, and it is a tasty combination of texture and flavor. From time to time, large, locally farmed snake is available on the rotisserie, a great treat for the more adventurous!
If seafood or the exotic is just not your thing, there is a host of more traditional meats to choose from including pork ribs, chicken wings, tender beef slices, and even frogs legs. The meats are marinated in local sauces; some mild and some more on the spicy side, while sides of salads, vegetables, french fries and rice are in plentiful supply.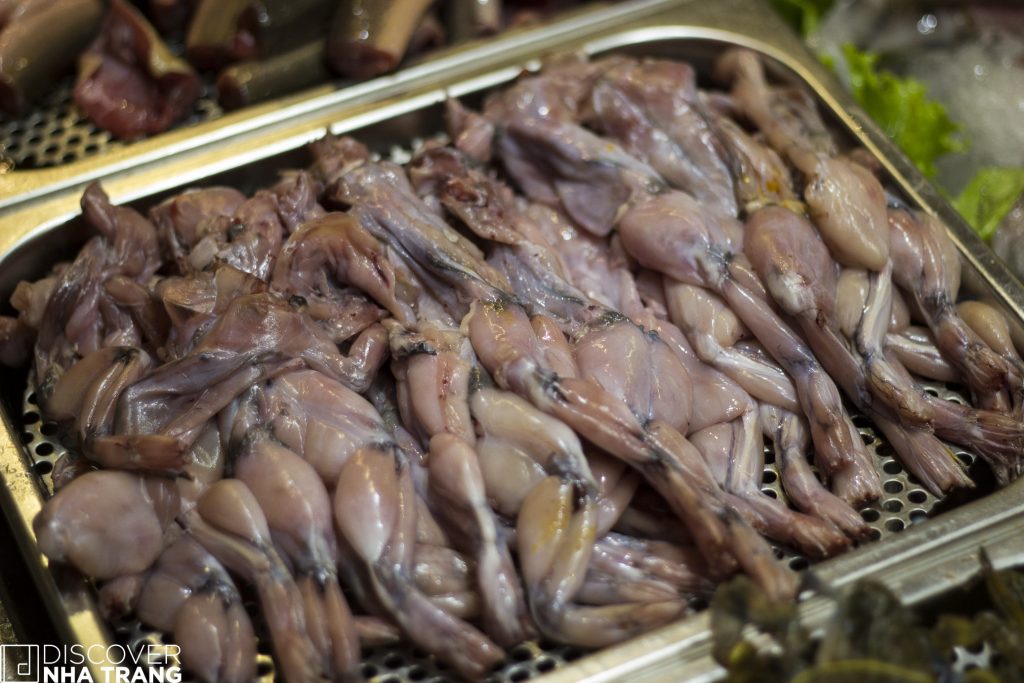 A fully stocked bar upstairs serves soft drinks, beers and juices directly to your table, and there are daily free drink and happy hour promotions on offer. The kids can enjoy desserts of fresh fruit, ice cream and "tra" (a local sweet soup) which is a must try. All of this is available for the more than affordable price of VND220,000 for adults, and VND110,000 for children.
Add: 3 Tran Quang Khai Street
Buffet time:  4pm – Midnight
Price: VND250,000  adults / VND110,000  kids