Stay, Eat, Play, Cruise and Enjoy, Pham Ha brings you some outstanding ideas for memorable experiences that will bring back holidaymakers again and again.
A friend of mine, Le, asked, "What can I do in Nha Trang for fun and relaxation? I want some new experiences to share with a couple of friends on holiday there".
Some of the group of friends already know Nha Trang but for others it is their first visit. Le has been to Nha Trang many times, both on business and for leisure, and has stayed at several properties including the Evason Ana Mandara with its idyllic beachfront location and ease of access to the city.
His two boys love visiting Vinpearl Land with its fun activities and he and his wife have escaped a few times to the Six Senses Ninh Van Bay and most recently to An Lam Villas. Always on the lookout for somewhere to stay that oozes sophistication, he has also stayed at the Amano'i, which was named one of the best newest hotels in the world by the luxury travel Conde Nast Traveler Magazine.
He has certainly experienced more luxury resorts than I have but I know the region and the destination better than him. I wasn't born in Nha Trang, but fell in love with the town and consider it to be a second home.
"Beyond the sea and beaches, Nha Trang has a lot of new things to offer you guys" I assure him.
I told him about cruising in Nha Trang Bay, something new for the region as it isn't just Ha Long Bay and the Mekong Delta that have luxury cruises. Emperor Cruises is a five-star cruise which explores deep into Nha Trang Bay, named one of the 29 most beautiful bays in the world, and the first to offer a deluxe all-inclusive service to high-end travelers.
Our conversion is peppered with quick questions and answers. Stunning scenery? Absolutely. Good company? Naturally. History? Surrounded by it. Great food? All the time. Romance? Definitely. Shimmering sea? Just dive in. Bliss? No extra charge. Have any celebrities been on the boat? Supermodel Ha Anh, Iron Chef David Thai and the Hue Researcher Nguyen Dac Xuan. How much? Just 1000 USD per person to be a king for a night.
"Nha Trang has been the top attraction for both domestic and international travelers for many years and is also popular with day visitors because of its delightful beach, considered the most beautiful in Vietnam, with deep blue sea and seemingly endless white sand. Together these create the perfect recipe for exploration, luxury adventures, enchantment, relaxation, snorkeling, scuba diving, surfing, cruising, mud baths, sky bars, restaurants and memorable new experiences."
With 300 days of sunshine each year, this once laidback beach town is waking up to become Vietnam's most happening seaside spot. Nearby Cam Ranh and Van Phong in Khanh Hoa have opened up for high-end tourism development as well and this can only benefit Nha Trang.
Nha Trang, the capital of Khanh Hoa Province in the Southern Central Coast of Vietnam, is the political, economic and cultural center of the province. Long stretches of pristine sand and clear waters offer sun-kissed relaxation in this bustling colonial coastal town. Tran Phu Beach, a 7 km-long stretch of golden sand has a backdrop of forested mountains and bordered by palm trees, colourful flowers and a range of beachside facilities including bars and restaurants.
Indeed if you come to Nha Trang for the first time, it is a colorful place. Everywhere you look there are splashes of color. Surrounded by steep, dark, green hills, the town hugs a long curve of yellow beach and a bay as blue as a fancy cocktail. All about you there are yellow colonial mansions, red flame trees, the whirling hues of the Ferris wheel and the children's amusement park, vendors selling balloons, beach toys, and beach umbrellas in dazzling colors…
But my friend knows all this and is looking for other experiences for his holiday. I told him more about Emperor Cruises and the opportunity to cruise in style out to small, uninhabited islands either for a day or overnight or just to enjoy the spectacle of seeing the twinkling lights of Nha Trang at night on a sunset cocktail cruise.
When the sunset's red glow has faded, you'll see the lights of the fishing boats, strung out across the bay like a string of glowing beads. While you sleep, the fishermen will be at work, catching the delicious seafood that will show up in the city's restaurants and markets the next day. But by the time you drink your morning coffee, the fisherman will be home asleep and the beach will be devoted to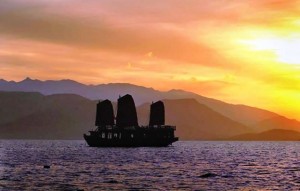 blissful relaxation.
Should they get tired of the sea, Nha Trang has several unusual sites, including a group of 9th-century Cham towers, Po Nagar, and a stunning, 14-metre tall statue of the Buddha at Long Son Pagoda. Perched in the hills above town, the gleaming white Buddha commands a stunning view of Nha Trang and the sparkling sea beyond.
If they fancy a round of golf they can play on the course at the Diamond Resort which is nestled between the mountains and the sea. Diving here is perfect for experienced divers who will enjoy sloping beach dives as well as challenging deep drop offs and even drift diving. There is also the chance of spotting whale sharks and whales!
Whatever your age, you can still have fun on the rides at the amusement park at Vinpearl Land, go bowling, have a go at ice skating or even watch a show. You can head out of town and spend a few hours in a mud bath. And, of course, everybody loves to shop. Although the designer shops haven't arrived in Nha Trang – yet – there are several artisan shops to browse for gifts to take back as a memento.
Adventurous foodies can sample bun cha ca, a delicious soup made from the freshest fish – and jellyfish. Gourmet travellers can try abalone, lobsters and salangane's bird nest. My favourite French flavor is Banh Mi sandwich Ba Le or grilled beef Lac Canh and I never fail to try these when I am in town.