Over the last four years, Hash House Harriers Nha Trang has developed into a important and ever-growing community club. The self-styled "Drinking Club with a Running Problem" can be seen every Sunday afternoon in rain or sun, trekking around the city and its surrounding areas. With a great mix of locals and expats taking part, it is a budding social club full of exercise in the great outdoors, a meeting place for people from all walks of life and a decent sprinkle of alcohol to oil the wheels.
Read our story about Hash House Harriers HERE
The 4th Hash Nha Trang anniversary took place recently, combined with the Viet Nash Hash – a national event for all Vietnamese Hash Clubs. It saw over 150 people from Hash Clubs across the globe descend upon the city for a busy and active weekend.  These sorts of events are very popular with hashers who like to travel and gives them a great reason to go to various countries all over the world. 'Hash' is the largest sporting club in the world.
On Friday night, registration and introduction took place at Crazy Kim's Bar in preparation for Saturday's 13km  run and 8km walk that ended at The Shack at Bai Dai Beach. For those who still had the energy, a difficult 6km run over the mountainous area behind the port led the hashers to the boats that took them for a well-deserved party on an isolated beach offshore.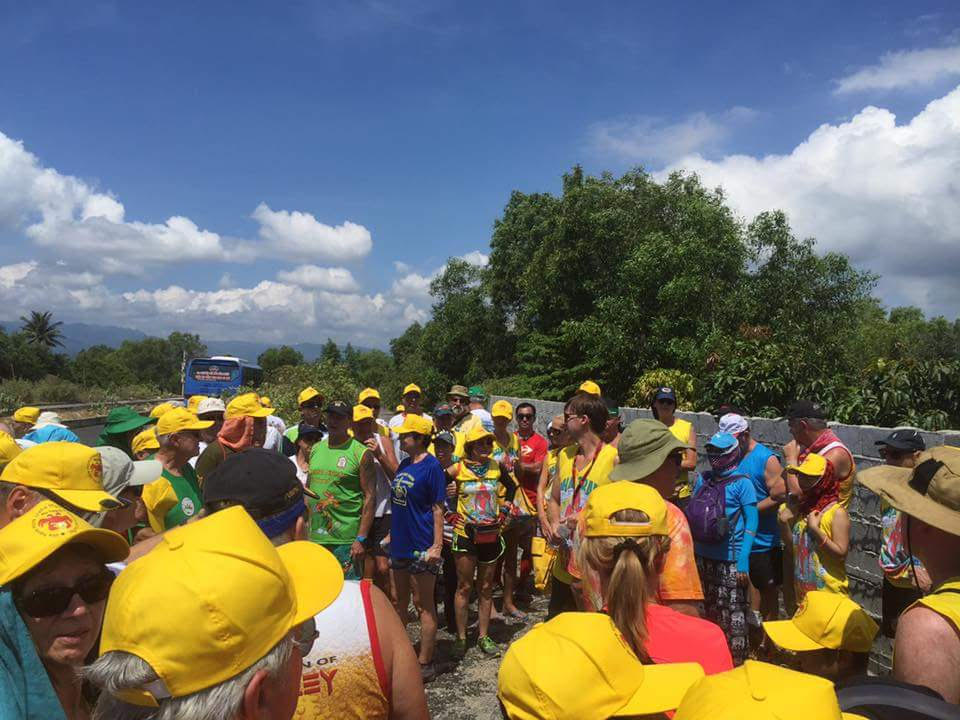 As is a tradition for Hash Clubs, the organizers always aim to make a nice social contribution to the area, and this time they truly came up trumps. Proceeds from the event were given to 3 very active charities, with donations amounting to 35 million vnd per charity (105 million vnd in total). The benefactors were:
Living Is Giving – Run by Klaudea Garces, this charity provides food and supplies along with much-needed water wells and medical equipment to the poorest inhabitants of Khanh Hoa's remotest areas.  The donation will go towards construction of irrigation and water provision in these areas.
Thuong Lai Foundation – Long-term expats Eileen Maree and Steve Brown have been tireless in their charity work with the children of Tu Bong Orphanage. They provide carers, education supplies and infrastructure projects in Tu Bong Village and this donation will pay for 3 month's salary for orphanage staff!
Lanterns Education Program – Hien and Robert from Lanterns and BBQ Un In are famous in the city for their longstanding commitment to social initiatives and charity work. The donation from Hash House Harriers will go towards their "Commitment to Education Fund" which pays for education to University level for up to 200 kids each year in Khanh Hoa.
The cheques were presented to the charities by Hash Nha Trang chairman, and Discover Nha Trang wordsmith, Mr. Dave Lowe. When not writing for the magazine or putting the 'hashers' through their paces, he is known to hunt dingos barefoot, sing Australian folk songs, and play the harmonica in tones that have been likened to the sounds of a drowning cat!
The Hash House Harriers run every Sunday afternoon from 3pm, leaving from Crazy Kim's Bar on Biet Thu Street. For more info, visit their FACEBOOK PAGE HERE