Taking place at Thanh Nien Park (Nha Trang) from 29/08 to 04/09/2016, the annual Vietnamese Cuisine Festival 2016 (Festival Văn Hóa Ẩm Thực Việt) is one of the most anticipated cultural and foodie events in the province. This is a great chance to try the abundance of incredible Vietnamese dishes and excellent agricultural products.
Not only a big chance to introduce the diversity of Vietnamese cuisine and local products to International friends, this festival also aims to provide local visitors and domestic travelers a deeper understanding about cuisine in Vietnam through a wide range of regional specialties. Moreover, it is an occasion to exchange cuisines among regions, a good place for local chefs and farmers to share and learn from each other, and to network with buyers and suppliers.
According to the festival's organization board, Northern provinces will join the event with their proud family of noodle soups such as Chả Cá Lã Vọng (Lã Vọng Fish Cake), Bún Mọc (Vietnamese Pork & Mushroom Noodle Soup), Bún Thang (Vermicelli Soup with Chicken, Egg & Pork), Bún Oc (Vietnamese Snail Noodle Soup), Bánh Đậu Xanh (Green Bean Cake)…
The Central Provinces will also be present with their trademark dishes including Bún Bò Huế (HuếSpicy Beef Noodle Soup), Cơm Hến (Mussel Rice), Mì Quảng (Vietnamese Turmeric Noodles from Quảng Nam), Bánh Xèo (Vietnamese Pancake), Bún Cá Nha Trang (Nha Trang Fish Noodles Soup). The South will send to the festival the multiple flavors of Hủ Tiếu Sa Đéc (Sa Đéc Noodle Soup), Bún Cá Châu Đốc (Châu Đóc Fish Noodles Soup), Chè Bột Khoai (Tapioca Sweet Desserts). Furthermore, visitors can try lots of unique and strange dishes from highland provinces like Rêu Nướng (Baked Moss) or Lẩu Cá Rừng (Forest Fish Hot Pot)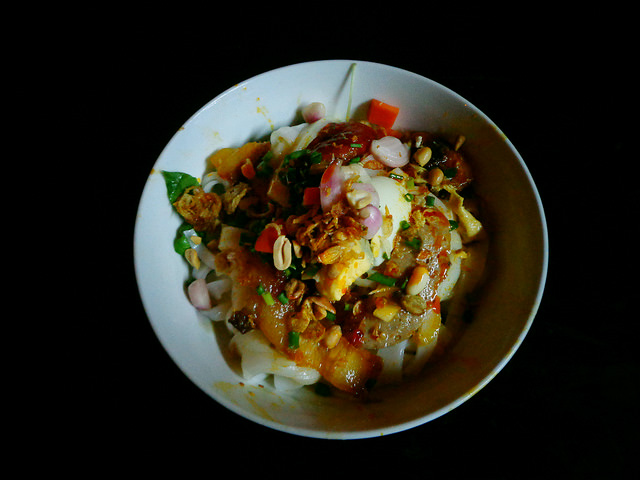 In addition, the festival will be made all the more special with a vast variety of fresh fruit from orchards all over the country, and Khanh Hoa Province growers will be eager to show off their own unique fruit dishes like Xiêm Coconut (Ninh Đa), Mango (Cam Lâm) and Durian (Khánh Sơn).
Dates: August 29th – September 4th
Address: Thanh Nien Park, Tran Phu Street (opposite the military airport) Nha Trang.