The secrets to great bartending and delicious cocktails!
In this week's spotlight, we speak to 2 impressive bartenders, flown into Skylight Nha Trang. They've come all the way from Lock & Key in Los Angeles to wow guests with their cocktail skills, share their secrets and have a good time. We got the chance to meet Connie Kim and Lenny Sorto, both skilled in their craft. They have been learning their trade and working in some of the coolest bars in Hollywood and L.A., and now bring their own unique style to Nha Trang.
—————————————————————————————————————————————–
Connie Kim – Fresno, California
Bartending Experience: 4 years
Worked at: Barton G (Hollywood), Toca Mader (Hollywood) Ink. by Michaiel Voltaggio (Hollywood), Lock & Key (Ktown, Los Angeles).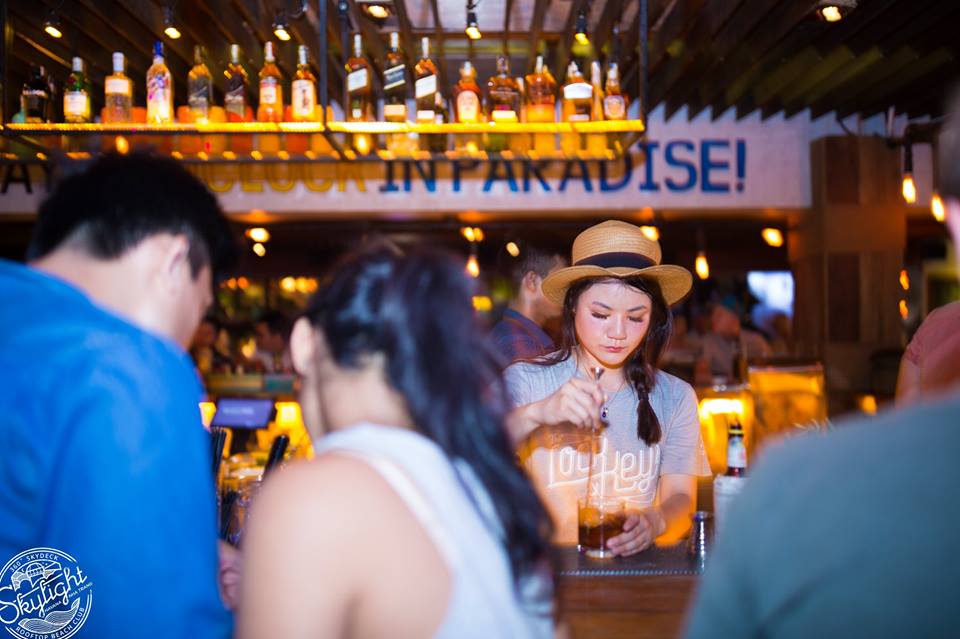 What's your favorite cocktail?
– "Fernet"- Fernet, Aperol, Elderflower, Passionfruit, Lemon, Agave, Coriander Flower.
– "#4"- Umeboshi, Manzanilla, Lemon, Black Rose, Strawberry Pearl, Pepper.
What are your favorite ingredients (or spirits) to work with?
– My style of cocktail making is far more ingredient driven than spirit driven. All of the love, creativity, and effort put into the base ingredients will definitely show in the final result.  Shopping around local/farmers markets and developing an understanding of flavors and fresh ingredients always keeps me inspired.
What's the most important skill a bartender should have?
Being able to multi-task. As a bartender, you have to be able to juggle a lot of responsibilities while still providing the best experience possible for your guest.
What makes for a great cocktail?
Again, your guest is always your number one priority. Everyone has a personal preference, so what you might think is perfectly balanced will not necessarily apply to someone else. Being able to be creative, but still intuitively adapt to individual preferences is what I think makes a great cocktail.  
What are you most excited about when coming to visit Vietnam?
I have never really traveled so I'm super excited to be given this opportunity. Being able to experience a totally different cultural setting while developing relationships with the staff here at Skylight will be an experience I will always be grateful for. And the food…really excited for the food.
Favorite Quote: (Quote to live by, life motto)
"The only impossible journey in life is the one you never begin."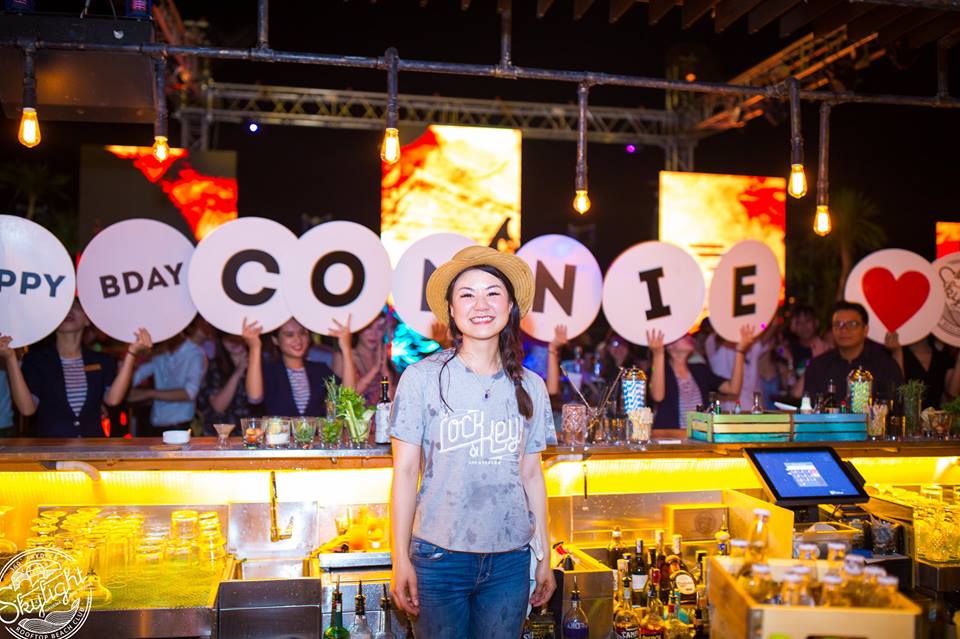 —————————————————————————————————————————————-
 Lenny Sorto –  Boyle Heights , California
Bartending Experience:  I"m going into my 3rd year of bartending. Prior to Lock &and Key, I worked at at a number of gastro pubs  where the main focus was on craft beer. The most notable jobs I have worked at include Golden Road Brewery (Glendale, California ) Tony's Darts Away (Burbank, California) and Mohawk Bend (Echo Park, California).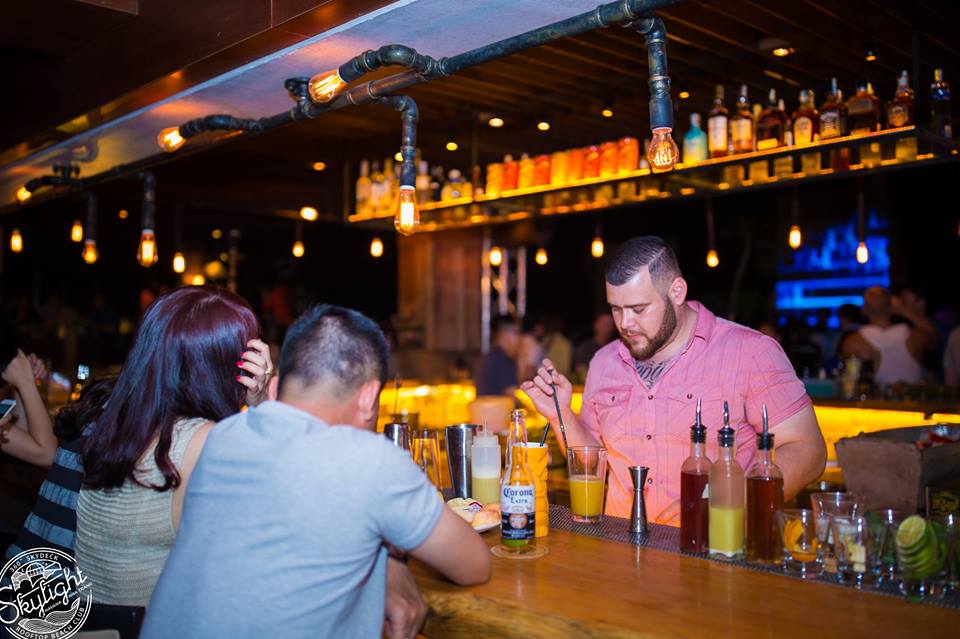 Favorite Cocktail
 My favorite cocktail is any variation of an old fashioned classic – Spirit, sugar, and bitters as it's just so simple and delicious. 
What are your favorite ingredients (or spirits) to work with?
 Lately, I have been really into working with Gin. I  like its diversity, but most importantly it's ability to pair with a numerous amount of herbs and citrus flavors.
What's the most important skill a bartender should have?  
In my opinion, a great bartender should possess the following:
– Great communication and people skills (No one likes awkward silence or a rude bartender).
– Must be intuitive in order to anticipate customer needs – knowledge of spirits (I find that most people are creatures of habit, having a broad knowledge of spirits can  help you introduce costumers to spirits that they would not normally drink)                                   
 – Creativity  (one must think outside of the box in order to come up with new cocktails .  A lack of creativity makes for boring cocktails)
What makes for a great cocktail?                   
Aside from balance, a great cocktail should stimulate the pallet . I love when I can taste multiple ingredients bouncing around my tongue.
What are you most excited about when coming to visit Vietnam?                                  
 I'm excited to be a part of something  revolutionary  here in Nha Trang. Skylight is definitely setting the stage for a future craft cocktail revolution in Vietnam. I'm looking forward to being in a new arena and working with  challenging new ingredients and flavor profiles. I cant wait to pass on the knowledge I have acquired when I get back to Los Angeles. I also hope to make an impact on the staff here, and pass on some of my experience.
Favorite Quote:  
"Winning is not a sometime thing…it's an all the time thing. You don't win once in a while…you don't do the right thing once in a while…you do them right all the time. Winning is a habit." -Vince Lombardi
Check out Connie and Lenny in action at Skylight Nha Trang. The highest bar in the city, it's the place to be for the best in music, cocktails and night-time entertainment.
www.skylightnhatrang.com