Please select a valid form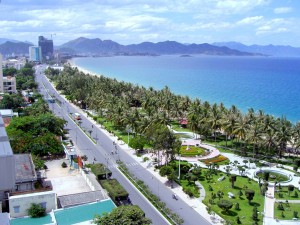 The sea and island paradise of Nha Trang, Khanh Hoa, on the southern central coast of Vietnam, is positioning itself as a luxury destination and is working hard to spread the message, writes the travel guru and contributor to The Guide, Pham Ha, CEO of Luxury Travel Ltd and co-Founder of five-star Emperor Cruises Nha Trang.

Nha Trang Khanh Hoa – This small colonial beach town is the Miami of Vietnam, home to 5 star hotels and resorts, nightclubs, and tourists everywhere. For a relaxing couple of days, there are snorkeling tours off of the coast in the crystal blue waters, and beautiful walks along the beaches or dining by the bay on board Emperor Cruises. The area is very built up with brand-named hotels and restaurants.

It is clear that the hotels and resorts are perfect for the leisure and MICE sectors (meetings, incentives, conferences and exhibitions) with the islands looking to develop the luxury leisure market while the city luxury hotels, such as Sheraton, Intercontinental and Best Western Havana Nha Trang, lure big groups and the MICE market.

MICE Tourism Potential

Nha Trang, the capital of Khanh Hoa Province, is the political, economic and cultural center of the province. Long stretches of pristine sand and clear waters offer sun-kissed relaxation in this bustling colonial coastal town. Tran Phu Beach, the 7km-long stretch of golden sand embraced by Tran Phu Boulevard, has a backdrop of forested mountains and is bordered by palm trees, colorful flowers and a range of beachside facilities including bars and restaurants.

As of August 2015, according to a Nha Trang Khanh Hoa tourism department source, the province has 601 accommodation establishments with a total of 19,936 rooms including 9 five-star hotels with 1906 rooms and 15 four- star hotels and resorts with 2683 rooms. The central coastal province of Khanh Hoa aims to attract 4 million tourists and gross VND6.5 trillion (US$309 million) in revenue this year, representing a respective rise of 17% and 30% year-on-year.

The reason why Nha Trang should be considered as a new luxury MICE destination is that the town itself is booming and has a lot of vibrant and potential options to become a leading luxury MICE destination in Vietnam. It is also recognised as a new tourism hub with dozens of opportunities ranging from day trips and spa indulgences to medical tourism and a vibrant nightlife. More than that Nha Trang is just a short flight from Ho Chi Minh City, southern Vietnam's economic and most dynamic city.

There are more than just beaches and islands, and travelers can find traditional culture, history, local cuisine, spas, fun nightlife, local lifestyle, amazing landscapes and a range of outdoor activities in Nha Trang. In fact it could easily be accorded "Luxury MICE City" status by the tourism authorities as Vietnam and Nha Trang are seen to have huge potential for a selection of luxury activities. There are unlimited luxury resorts, hotels and spas and an emerging tourism infrastructure that could put this piece of paradise on the MICE map in the region.

Nha Trang is one of the most beautiful beach destinations in the world and has gained a great reputation with luxury holiday makers during the last 5 years and has seen significant tourism investment. There are numerous activities such as luxury water activities, seaplanes and private jets and marine sports which have blended well with the culture and traditions of this charming region.

With 300 days of sunshine each year, this once laidback beach town is waking up to become Vietnam's most happening seaside spot. Neighbouring Cam Ranh and Van Phong in Khanh Hoa have opened up for high-end tourism development as well and this can only benefit Nha Trang. Even beauty contests take place here in Nha Trang – Miss Universe has just taken place in Diamond Bay.

Nha Trang has been a top attraction for both domestic and international travelers for many years and is a favorite with day visitors because of its delightful beach, considered the most beautiful in Vietnam, with deep blue sea and seemingly endless white sand. Together these create the perfect recipe for exploration, luxury adventure, enchantment, relaxation, snorkeling, scuba diving, surfing, cruising, mud baths, sky bars, restaurants and memorable new experiences.

Should luxury travelers get tired of the sea, Nha Trang has several unusual sites, including a group of 9th-century Cham towers, Po Nagar, and a stunning, 14-metre tall statue of the Buddha at Long Son Pagoda. Perched in the hills above town, the gleaming white Buddha commands a stunning view of Nha Trang and the sparkling sea beyond.
If they fancy a round of golf they can play on the courses at Vinpearl Golf Club and Diamond Bay, which is nestled between the mountains and the sea. Diving here is perfect for experienced divers who will enjoy the sloping beach dives as well as challenging deep drop offs and even drift diving. There is also the chance of spotting whale sharks and whales!

Whatever your age, you can still have fun on the rides at the amusement park at Vinpearl Land, go bowling, have a go at ice skating or watch a show. You can even head out of town and spend a few hours in a mud bath. And, of course, everybody loves to shop. Although the designer shops haven't arrived in Nha Trang – yet – there are several artisan shops to browse for gifts to take back home as a memento.

Adventurous foodies can sample bun cha ca, a delicious soup made from the freshest fish – and jellyfish. Gourmet travelers can try abalone, lobsters and salangane's bird nest. The favorite French dish is Banh Mi sandwich Ba Le or grilled beef Lac Canh and should not be missed.

The Luxury Leisure Segment

For the luxury leisure market, whatever is needed, such as a luxury limousine service, VIP meet and greet, a cruising experience, fine dining, a tee off at the best golf courses, local encounters, meeting a photographer, a cookery class with a master chef, a spa, biking experience with a professional, boat trip on the Cai River and dine in the rice field, share a passion for motorbikes with vespa lovers or celebrate your wedding, Nha Trang is the ideal destination. You name it our company makes it happen in style as we have our own office, local expertise, local and expatriate people, and solid infrastructure such as cruise ships and deluxe vehicles right here in Nha Trang!

We define luxury travel as experiences. To ensure high quality accommodation, we have personally checked all of our recommended hotels and resorts in Nha Trang. We taste the experience, know it, feel it and provide our expertise to the most sophisticated travelers. Our luxury tours are our signature and have been carefully designed by ourselves to provide a unique experience in this destination.

Our experiential tours also promote cultural understanding and exchange, flow smoothly from place to place, and allow time for relaxation and independent exploration. They provide a lot of flexibility, privacy, worry-free travel, maximum value, and a once-in-a- lifetime experiences.

Our tour itineraries can be modified to suit personal tastes, time frame, budget, and special interests. Our team, both local and expatriates are named personal experience managers and deliver the finest luxury experiences in Nha Trang, Vietnam.

We have seen the number of luxury holidaymakers increase by 50%, especially from the UK market following the introduction of the visa waiver, and they fly straight from the cold weather to sunny Vietnam and Nha Trang. We already have bookings right up to December 2016.

To Pump Up Nha Trang Tourism

To become a prime MICE destination in a luxury market, Nha Trang still needs more development and perhaps foreign investment so that the airport links can be expanded, though currently there are some direct charter flights from Russia, the Ukraine and China and numerous domestic flights. There is also the need for shopping malls as well as more authentic experiences to help develop this beautiful bay.

In terms of accommodation, there is an oversupply in the luxury sector in one destination and more hotels and resorts need to be opened in Cam Ranh in order to compete with Nha Trang in the same province. All interested players should now step up to promote the destination so that it can compete with Danang or Phu Quoc to attract travelers. It is fortunate that the first ever luxury destination magazine, Discover Nha Trang, is on hand to promote the destination and has already been applauded since it was published.

All players should work effectively under one umbrella, such as a competent destination management organization (DMO) or Khanh Hoa Department of Tourism. The industry associations must work effectively together, arrange more marketing activities abroad, and encourage more airline connections. Access is the crucial issue so Cam Ranh Airport must be upgraded or a new one built in order to be able to receive larger aircraft and offer exclusive VIP meet and greet and services.

The local authorities must recognize that tourism needs a strong local economy and favorable conditions in order to be able to develop tourism in a sustainable way. The city needs an architect-led master plan to retain the local charm, colonial mansions and French essence. The fact that the delightful, historic Bao Dai Villas have been allowed to become run down is to the regret of all Nhatrangers and travelers. It is particularly important that the islands and beaches do not become overdeveloped and that all investors and developers should have equal opportunities to attract them to the city and encourage new services and providers, such as cruise operators.

To develop this segment, Khanh Hoa needs to urgently build a sea port to be able to welcome large cruise ships and develop local cruise tourism. Emperor Cruises had some difficulties in setting up its cruises in Nha Trang port and we now use the same cargo port, which is not ideal when you consider the caliber of our up market clientele.

In order to tap the luxury leisure market, local tour operators must understand the needs of their luxury clients. The key thing sophisticated travelers want today is personal service and the opportunity to experience unique encounters with a destination's culture, history and people – something they can't Google.

Luxury travelers look for new experiential travel and expect to receive "wow" services and take home fond memories. The growth of the experiential travel market is well reported. Luxury travelers aren't merely buying a destination anymore, they are seeking engagement. Terms such as "authentic", "transformational experiences", "meaningful connections" and so on, are populating the brochures and websites of travel companies.

Fortunately Nha Trang has a lot of potential to offer for both the leisure and MICE luxury markets. The hardest thing is making travel professionals forget their preconceived ideas about Nha Trang and how it used to be and convince tour operators and MICE planners to choose Nha Trang as a destination for their guests.

To summarize, in order to grow the MICE segment, more international flight connections, luxury shopping malls, entertainment, easy connections, better convention facilities, better infrastructure and human resources are required.

Nha Trang as a Destination

The coastal city of Nha Trang, in Khanh Hoa Province in Central Vietnam, lies on the trans-Vietnam highway, 1,278km from Hanoi and 448km from Ho Chi Minh City and is a gateway to the former French retreat of Dalat, in the Central Highlands, just 2 hours away by car.

HOW TO GET THERE By plane from Hanoi and Ho Chi Minh City to Cam Ranh airport, 30km from town, or by train from Danang or Ho Chi Minh City.

WHAT IS THERE A seaside town with a long sandy beach and many bars and restaurants and diving shops, and many offshore islands ideal for those wishing to snorkel and dive.

1. The Oceanography Museum
2. The Stone Church
3. The Po Nagar Cham Towers
4. The Buddha at Long Son Pagoda
5. Vinpearl Amusement Park
6. The Yersin Museum
7. The local Dam market
8. Skylight Bar
9. Emperor Cruises
10. Iresort, 100 eggs or Phap Ba hot spring

WHEN TO VISIT It is a year-round destination, although there can be rain between September and December, with occasional tropical rain.